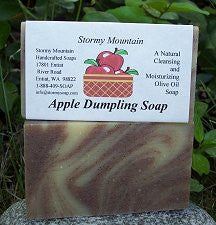 APPLE DUMPLING SOAP
$ 5.50
A favorite from Washington State. This all-natural soap is a wonderful blend of cinnamon, spice, and everything nice. Real apple pie spices are gently swirled in for a one-of-a-kind marbled bar.
NO ARTIFICIAL INGREDIENTS OR PRESERVATIVES.
Ingredients from nature: 100% pure olive, coconut and palm oils, pure mountain spring water, mineral salts, true essential oils and spices. Net wt. approx. 5 oz.